Tract 150
Upton County, TX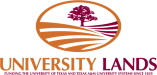 University Lands Sealed Bid Sale No. 129, September 19, 2018
Registration Status:
Please log in as a buyer to view registration status.
Your Bid Status:
Please log in as a buyer in order to bid.
Time Remaining:
Auction has ended
Start Time:
8/19/2018 10:00 AM CDT
End Time:
9/19/2018 10:00 AM CDT
Minimum Bid:
$250 per acre
Total Lease Cost at Minimum Bid:
$182,550.91
(Bonus + Agency Fees + Advanced Rental + Buyer Premium)
Legal Description:
Block 14, Sec. 08: All
Legal Description
Block 14, Sec. 08: All
Delay Rental ($25/acre)
$16,195
Comments
Surface Note: Pretty big steep hill/mountain takes up over 1/2 of the section mostly on the east side. There is a ranch road that can be used at this time to get around to most of it.
Lease Terms and Conditions
Effective September 19th, 2018 with a primary term of three (3) years and a Royalty rate of 20.00%. Click here to view lease form.
This Lease is subject to any and all existing pipeline, road or utility easements, surface or commercial agreements, and encumbrances of any nature affecting the Premises or any part thereof, and the rights of the parties thereunder, which are evidenced by documentation filed of record in the Official Public Records of the County where the Premises are located as of the Effective Date or that a true and correct survey would reveal.
Successful Bidder Notification
When the bids are accepted by the University Lands of Texas, the successful bidder will be notified via email with closing instructions, including total amount due.
Notice: A Buyer Premium will be added to the total bonus amount cost of this lease, calculated as follows:
| Tract Bonus Bid | Buyer's Premium |
| --- | --- |
| <=$50,000 | 1.25% |
| >=$1,000,000 | 1.00% |
Buyer Premiums are only due for tracts which are sold and computed only on the winning bonus bid amount. The schedule offers a fixed rate of 1.25% up to a bonus bid value of $50,000 and then begins to slide linearly to a rate of 1.00% for a bonus bid value of $1,000,000. Bonus bids in excess of $1,000,000 are computed at a fixed rate of 1.00%.
University Lands Points of Contact
EnergyNet Points of Contact