Why should you choose EnergyNet to divest your assets?
National Exposure
EnergyNet has 35,000+ registered bidders from all 50 states, with 8,200+ unique bidders participating monthly. On average, EnergyNet has 8.4 bidders per auction transaction. EnergyNet's online auction and sealed bid platform attracts bidders who would be unable or unwilling to attend an on-site auction, which increases revenue for the seller.
It's a fact: EnergyNet has the largest network of active, sophisticated, accredited buyers. Currently, EnergyNet has sold 225,000+ properties all across the United States.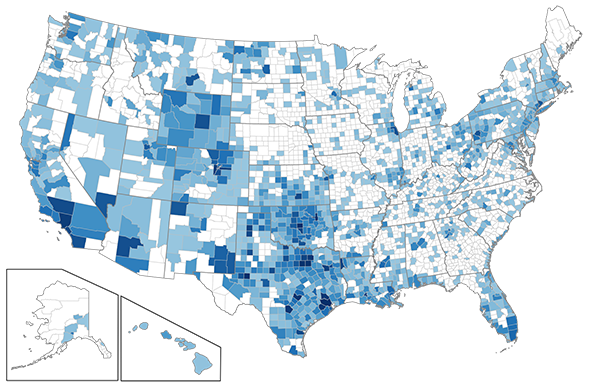 Darker color denotes higher concentration of bidders
Increased Competition = Higher Returns
It's simple: Greater buyer exposure leads to more competition. More competition leads to higher returns for sellers.
This video shows the bidding activity for one property over its 7-day bid period in November 2011. Watch as bidders from all across the United States participate in this sale. This kind of activity is something you can only achieve with the ease-of-access and level playing field that the EnergyNet online marketplace provides.
Platform Efficiency
Compare the divestment platforms: EnergyNet's online marketplace versus the "traditional auction:"
| Feature | Description | EnergyNet Platform | Traditional Auctions |
| --- | --- | --- | --- |
| Exposure | EnergyNet is the only continuous oil and gas property marketplace that operates all day, every day, with access to 35,000+ unique registered bidders, of which 8,200+ participate monthly. | 35,000+ unique bidders; 8,200+ monthly bidders; 600+ bidders per auction closing day | 150 to 200 bidders per auction |
| Rapid Sales Cycle | Regardless of the number of wells or complexity of the properties, closing a deal with EnergyNet typically takes only 35 days from the receipt of data to funding the transaction, versus 60-90 days with a traditional physical auction. | Sales cycle of 35 days | Sales cycle of 60-90 days |
| Success-Based Fee | EnergyNet is compensated on a success-based commission only, incentivizing all parties to complete a transaction at the highest value. | Success-based commission only | Commission plus extra promotional fee and penalty fees |
| Competition | EnergyNet's platform provides greater buyer activity, as measured by the number of bids and unique bidders, maximizing value for the seller. | 8.4 bidders per transaction | 2.3 bidders per transaction |
| Evaluation Data | EnergyNet provides all due diligence material in a secure, consistent, organized and complete presentation through our VDR. Hotel/hybrid auctions rely heavily on paper, mailed to bidders or in tubs at the physical auction site. | Comprehensive online data room supplemented by hardcopy files upon request | Physical copies or PDF scans |
| Execution | More than 1,250 transactions close annually on the EnergyNet platform with more than 45,000 properties transaction since inception. | 82% success rate | 65% success rate |
| Liquidity | EnergyNet has 140+ auction closing days per year (Tuesday - Thursday of every week, additional days when necessary), while traditional hotel style auctions close 7 times per year, on average. Sell when you want to sell; not when the auctioneer decides to hold an auction. | 140+ auction closing days per year | 7 auction closing days per year |
| Exclusivity | EnergyNet executes in a timely manner. Our goal is to sell your property, not tie it up. We do not cancel or postpone our auctions, so we don't need to pad our exclusivity period to sell the property. | 60 days | 180 days |
No Waiting for a Sale to "Make"
Your negotiated and auction properties, from single wells to multiple fields, deserve to be marketed nationwide, increasing the competition and value for your assets through the 24/7 continuous Internet marketplace that EnergyNet.com provides. You should never have to wait for a broker to reach a "critical mass" of properties before your asset can be sold. At EnergyNet, you never have to wait for a live auction.
Fast Sale Cycle
Selling auction properties with EnergyNet takes only 35 days from start to finish, regardless of the number of properties. EnergyNet has 140+ auction closing dates per year. Properties are available for review and bidding 24/7/365. EnergyNet's real-time marketplace is designed for sellers and buyers, offering constant liquidity.
Success-based Fee
EnergyNet works on a success-based commission only. If the property does not sell, we do not get paid.
Selling a property on EnergyNet is simple! This page explains how. To find out more, us the tabs above to learn about the robust EnergyNet marketplace and discover how effective it is to sell your properties online!
Three easy steps to register and sell your properties
If you haven't already created a free seller account, your first step is to visit the seller registration page and register.
After you have registered, log into your seller account to view and sign the Seller's Agreement for the Sale of Oil and Gas Properties from your Seller's Homepage.
When you're ready to sell a property, use the EnergyNet Auction Manager to enter information about your properties and submit them to the EnergyNet Land Department. Watch the comprehensive tutorial video below to learn more!
Introducing the EnergyNet Auction Manager
The Auction Manager is a powerful tool to help you create a lot, add properties to the lot and submit the information to the EnergyNet Land Department for review. The process is fast and simple. You will only be asked to enter the most basic information about your properties. Using this tool, you can create a lot in minutes.
Watch the tutorial video below to learn about creating lots with the Auction Manager. The video is less than 9 minutes long, but shows you the entire process - that's how simple it is!
EnergyNet Seller Checklist
In order to sell your properties, EnergyNet would like the following supporting documents in order to create the due diligence data room for your property package:
Signed Seller's Agreement for the Sale of Oil and Gas Properties with an Exhibit A for the properties you are selling
Executed and notarized outgoing conveyance instruments with your completed Exhibit A
Property/well data sheets (use the powerful EnergyNet Auction Manager to create your lot and add individual properties - see above)
Copy of source documents (lease schedule/base lease/assignment in to current owner of record)
Lease Operating Statement and copies of revenue/expense detail (checks/Joint Interest Billing Statements) for the most recent 6 months
Copies of marketing contracts and JOAs, if available
Maps and plats, if available
Change of Operator forms
Equipment/asset inventory
Economics database
Release of lien or mortgage
Your Business Development Representative will gladly assist you throughout the process to help you assemble the information EnergyNet needs to properly market and sell your property.
EnergyNet sellers enjoy the flexibility of choosing which sale type best suits the asset they are divesting. Your Business Development Representative will help you make the right decision about the sale type for your asset. Here are some general guidelines used to determine an appropriate sale type.
Auction Sales
Typically requires a simpler presentation of property information
The asset has more than 75% proven developed production (PDP), with small upside
The only two chief variables are price and effective date
Numerous bidders expected to compete for the asset
Rapid-cycle Sealed Bid Sales
Information about the asset is more complex, requiring a more detailed presentation.
The asset has less than 75% proven developed production reserves (PDP).
The asset has more than 25% proven undeveloped production (PUD), but greater upside potential.
Variables other than price and effective date influence the value of the asset.
Fewer bidders are expected to compete for the asset due to its unique characteristics
Negotiated Sales
Has a market value up to and including $250+ million
Requires broad and targeted market exposure due to the upside potential, new drills, work overs, secondary or tertiary recovery projects
Is operationally and contractually complex, with large amounts of geological, reservoir, production and land data that require an Internet Data Room (IDR) to show, and additional time for a buyer to review
75% or less of the value is associated with Proved Developed Producing (PDP)
May include non-producing opportunities which require additional data and explanation
A Confidentiality Agreement (CA) may be required for release of specific data
A Purchase and Sale Agreement (PSA) is expected for the asset. In the PSA, the buyer and seller spell out specifically what is being purchased and what is not, who is responsible for environmental issues, when the effective date is, and any other issues required about the ownership of the property.